Certified ScrumMaster®
Certified ScrumMaster
All CSM courses are taught by Trainers approved by the Scrum Alliance. Taking a CSM course, accepting the license agreement, and passing the CSM test designates you as a Certified ScrumMaster, which indicates that you have been introduced to and understand the basic concepts you need to perform as a ScrumMaster or team member on a Scrum team. This course also satisfies two elements of the CSD track: Scrum Introduction and Elective.
Manoj Vadakkan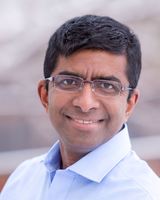 Manoj Vadakkan is a Certified Scrum Trainer and Agile Consultant. He facilitates workshops all over the world including Certified ScrumMaster, Introduction to Agile, and Scaling Agile. He strives to provide training that is experiential in nature where the learners develop knowledge and skills from actively participating rather than being passive listeners. In his coaching practice, Manoj uses innovative approaches such as Scrum, Kanban, and Lean to help individuals, teams, and organizations to achieve their potential.
Certifications
Certified Scrum Trainer®
Certified Scrum Professional - ScrumMaster™
Certified Scrum Professional - Product Owner™
Certified ScrumMaster®
Certified Scrum Product Owner®
The CSM Course is a 2 day class from 9AM-5PM, a light breakfast is served at 8:30AM and Lunch is provided mid-day.
2 Day CSM In-person Course
Includes a light breakfast, lunch and afternoon snack provided on both days of training
Includes Exam Fee for CSM Certification (2 attempts towards the CSM exam)
2 Year Membership to Scrum Alliance
General Knowledge

Agile Manifesto
Scrum Foundations
Sprint
Scrum compared to Waterfall
Significance of "Done"
Scrum compared to Waterfall
Scrum Values
Applicability of Scrum

Scrum Roles

Overview of Scrum Roles
ScrumMaster: Responsibilities & Authority
Product Owner: Responsibilities, Authority, Constraints...etc.
Product Owner: The Team: Responsibilities, Authority, Teamwork & Characteristics.
Impact on Traditional Roles.

Scrum Meetings

Sprint Planning Meeting
Daily Scrum Meeting
Sprint Review Meeting
Sprint Retrospective Meeting
Release Planning Meeting

Scrum Artifacts

Product Backlog
Product Increment and the Definition of Done
Sprint Backlog
Burndown Charts

Integration

ScrumMaster Responsibilities and Skills
Scrum Simulation
Class Retrospective
There is no required prior certificate, educational background, or work experience needed to participate in the CSM course, complete the exam, and receive certification.The Certified Scrum Master course is designed to introduce you to the basics of Scrum, and as such all backgrounds are welcome to join and achieve Scrum Master Certification.
The CSM exam is administered online and sent via email after attendance is recorded and reported by your Scrum Alliance Instructor. The link is sent 24-48 hours after class concludes. You have 90 day access to take the exam and 2 attempts towards passing. The exam is in multiple choice format.
All cancellations or date changes must be made at least 10 days prior to the course start date or will be subject to a $150 late-move/cancellation fee. No-shows or same day move/cancellations are non-refundable.
By attending the 2 day CSM course you will earn 14 PDU/SEU that can be applied towards further educational goals. To claim credits a code is provided at the end of the CSM course book.